At last.....bertemu gak ako ngan kartunis pebret ako..bro Aie & bro Gayour di pesta buku antarabangsa di PWTC ari ahad arituh 26/03/06.Antara kartunis len yang ako jupe ialah kartunis Blue,Pac,Niezam, dan Sagu.So kepada sesaper yg nak jupe kartunis-kartunis atau nak beli buku ke atau sajer nak usha awek ke leh la gi pesta buku nih.Ia masih lagek berlangsung sekarang sehingga 02/04/06...
Dragon wif kartunis Aie...cayalah bro lu nyer artwork memang masyuk..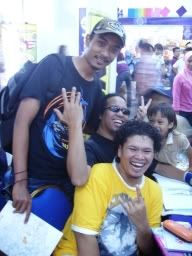 Dragon wif kartunis Aie & Gayour....korang memang rawksss!!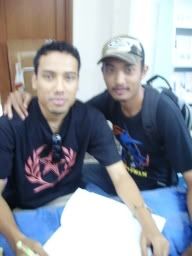 Dragon wif kartunis Sagu..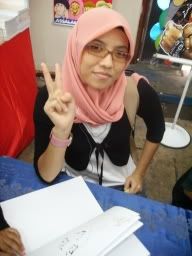 Saper awek kiutz ni??ni la kartunis She..
rreleases my dragon bankai on Tuesday, March 28, 2006r
Pc fair again..dis time seems more locations has been added,like The Summit Batu Pahat?waa..my hometown la...
Dates and Locations:
7 - 9 April 2006
Penang International Sports Arena, Pulau PinangCity Square, Johor Bahru Sandakan Community Hall, SandakanTawau Community Hall, Tawau
14- 16 April 2006
KL Convention Centre, Kuala Lumpur
Berjaya Megamall, KuantanCentral Square, Sungai PetaniSummit Shopping Complex, Batu Pahat
21 - 23 April 2006
Stadium Indera Mulia, IpohMahkota Parade, Melaka
5 - 7 May 2006
Sibu Trade & Exhibition Centre, SibuMiri Indoor Stadium, Miri
rreleases my dragon bankai on Friday, March 24, 2006r
Wahh!!! my gud fwen want to engage lah next month.Faizal as pic attach(dragon's choice) on the right side of dis page will engage to my lovely sis Ruz on 9th April 2006.Hurmmm...he ask me to follow his rombongan to sis Ruz house in Pahang.Not sure la can follow or not,perhaps can....by de wey,hope dat your engagement last long untill to jinjang pelamin my fwen...
rreleases my dragon bankai on Thursday, March 23, 2006r
Wednesday, March 22, 2006
RUJUKAN BIL: X03BL04/2006
PROGRAM MENEROKA GUA TEMPURUNG &
KE REKREASI AIR TERJUN LATA KINJANG.
DESTINASI KAMPAR. PERAK.
TARIKH
16 hb April 2006
( satu hari )
TARIKH TUTUP PADA
9HB APRIL 2006

BAYARAN RM 95.00 ( Sembilan Puluh Lima shj )
Pakej rm 95.. Termasuk transport bas rombongan-(facility karoeke.. kalo sape2 ada cd karoeke leh lah bwk ehh... sesape nak tunjuk bakat.. jgn segan2 leh nyanyi semua lagu.), tshirt-(glow n dark), makan (sarapan pagi&tengahari) & bayaran masuk gua (full stage)
Dikehendaki membuat pembayaran deposit sebanyak RM 50.00 untuk pengesahan menyertai program ini. Sila masukkan duit ke dalam Bank Bumiputra Commerce Bhd No. A/C: 1432-0061644-52-1 Suhaili Bt Mohd Sharidan. Sila simpan slip bank anda sebagai pembuktian pembayaran. Terima Kasih..
Sila hubungi kami : Suhaili 019-3645962
PROGRAM TENTATIF
HARI MASA AKTIVITI
AHAD
16/04/06 7.00 pg Berkumpul Di Central Market, Kuala Lumpur
8.00 pg Bertolak ke Gua Tempurung, Ipoh.
PERHATIAN: Semua peserta diharap dapat bersarapan didalam bas kerana bas tidak akan berhenti dimana-mana kawasan R&R PLUS kecuali hanya untuk membuang air sahaja.Harap maklum
10.00 pg Tiba di Gua Tempurung, Kampar, Perak.
10.15 pg Taklimat dari APT Konsortium S/B (Gua Tempurung Man)
10.30 pg Penerokaan Gua bermula
2.15 ptg Selamat kembali dari penerokaan. Bersihkan diri naik bas.
2.30 ptg Bertolak ke Rekreasi Air Terjun Lata Kinjang
Pengagihan Makan Tengahari kepada peserta.
PERHATIAN : Oleh kerana kesuntukan masa kesemua peserta tidak dibenarkan makan di Kedai makan di sekitar gua tempurung. Makan tengahari telah pun disediakan oleh pihak penganjur. Peserta bolehlah menikmati makanan di dalam bas atau di Air Terjun Lata Kinjang.
Perjalanan mengambil masa lebih kurang ½ jam utk sampai ke Lata Kinjang. Harapmaklum
3.00 ptg Tiba di Rekreasi Air Terjun Lata Kinjang, Tapah, Perak.
6.00 ptg Bertolak balik ke Kuala Lumpur
SENARAI KEPERLUAN PERIBADI PESERTA
1. Lampu Suluh
2. Air minuman (Ketika meneroka gua)
3. Kasut Sukan (lasak/serbaguna)
4. Beg Galas kecil (jika perlu)
5. Alat Mandian
6. Pakaian Peribadi
7. Beg Plastik (Isi pakaian basah
8. Sudu/Garfu
PERHATIAN:
BAJU KELAB DIKEHENDAKI DIPAKAI SEBELUM PESERTA BERANGKAT KE GUA TEMPURUNG.
PESERTA HARUSLAH MEMATUHI SETIAP ARAHAN YANG DIBERI DARI MASA KESEMASA.
PERUBAHAN MASA, PERJALANAN DAN AKTIVITI BERGANTUNG KEPADA SITUASI SEMASA.
Kepada sesiapa yang berminat boleh kontek ako atau trus kontek no. yang tertera tuh..jom tiruk!!!!
rreleases my dragon bankai on Wednesday, March 22, 2006r
Arini adalah hari ke-3 life ako sebagai student balik..berbekalkan elaun yg ciput ako akan cuba gak survive kat big city cam kl nih utk masa 6 bulan nih...kalo dipikirkan balik sayang gak tinggalkan keje dulu...tapi org kater kununyer untuk strategic career plan ler..yeke??i hope so...Hope dat i will finish what i already started now & will pass all the exam and able to get the MCSE cert...
rreleases my dragon bankai on Friday, March 17, 2006r
Finally..today is my last day,end of my service with webvisions.I juz wanna say thanx to my sr.engineer Mr.Iskandar the person who gave me the opportunity to work wif dis company.Also thanx to other colleagues such as Suhaizi,Rosli,Maha,Siva and Rashid because gave me full support since i work here.It's been a great pleasure working wif u guys.Gud bye webvisions,gud bye TMnet(work place),gud bye Cyberjaya....sob..sob..
rreleases my dragon bankai on Sunday, March 12, 2006r
Hurmm...Alhamdulillah..today run very smoothly,but now i'm so hungry..arkhh...headache..eat notin since 10.00am dis monin and now 8.30pm..must eat...eat...eat...eat...nak makan ape yerk malam nih???

rreleases my dragon bankai on Saturday, March 11, 2006r
Dis week is my last week to work wif webvisions...hope dat notin bad will happen dis week..Amin!!!
rreleases my dragon bankai on Thursday, March 09, 2006r
Trdtuwtuisbbmni,
aosyaubsiugugs,
as8ywhuhsgiu,
austwegibsiu,
fdsojomsdojsdpooj,
Selangor.
Webvisions Network Services Sdn. Bhd,
(A subsidiary of Webvisions Pte Ltd),
C206, 2nd Floor, Block 3440,
Enterprise Building One,
Jalan Teknokrat 3,
63000 Cyberjaya, Selangor.
Malaysia
28th February 2006
Dear Sir/Madam,
Letter Of Resignation
This is to formally notify you that I am resigning from Webvisions Network Services Sdn. Bhd as technical support and 12th February 2006 will be my last day of employment.
It's been a great pleasure working with this company. I wish webvisions continued success.
Sincere thanks and best wishes for the future,
.......................................
(asyfyvawuydvuvdaibsjdb)
Izzit a letter of resingnation???yezz it's my formal letter to
QUIT
...
why do i quit??bekoz ako rasa ako lom layak lagik ahh nak keje kat sini...knowledge ako terlalu sikit kalo nak dibandingkan ngan colleagues yang lain...so ako tepaksa amik langkah untuk belajor balik..HUHUHU!!! Gua nak amik sijil mekrosop...next week adalah minggu terakhir gua kat sinik....sok cutii..HUAHAHAHAH!!!!!!!
rreleases my dragon bankai on Thursday, March 02, 2006r